For a more peaceful pace, try unrolling a yoga mat onto the white, sandy beaches of the Emerald Coast.

Yogic principles proffer that the breath is the key to the peaceful union of mind and body, and where better to practice breathing techniques than sitting on the beach, inhaling the crisp, salty air?

Destin Yoga by the Sea, the area's originator of beach yoga, offers on its Web site an irresistible description of their seaside classes:

"Our beach yoga classes fully connect with the rejuvenating ambience of Destin – allowing us to step out of our heads and become grounded in peace, listening to the gentle rhythm of the waves lapping onto the shore, renewing in the sea breeze and centered with the horizon as a focus point while delighting in the dolphins surfing the waves."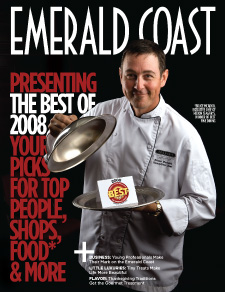 October 08
And it's a great workout, too. Rhonda Comparin, owner of Destin Yoga by the Sea, teaches all the classes Vinyasa style, in which the focus is on the journey between the yoga postures, and not just the postures themselves. Students learn to connect their flow of movements – such as Sun Salutations and Downward Dog – with their breathing, and Comparin demonstrates modifications for every skill level. While yoga has long been known for its meditative benefits, such as quieting mental chatter and reducing stress, it also does wonders for the body. Practitioners will see better posture, more-sculpted muscles, improved flexibility, increased coordination and greater endurance as their bodies gradually come to their natural weight.
Comparin holds her beach yoga classes at James Lee Park near The Crab Trap on Scenic Highway 98, and has back-up locations in the event of cold or rainy weather. Class fees are on a donation basis, and drop-ins are welcome. Be sure to wear comfortable clothing that allows you to move (no shoes needed), and bring drinking water, a towel, sunglasses and sunscreen, along with "an open mind and a sense of humor." If you don't have a yoga mat, you can borrow one.
Visit yogadestin.com for a full schedule, including sunset classes, and more information on the different types of yoga offered, as well as instructional photos for various poses.
By Clay Lisenby
YogaMom Magazine is pleased to feature Destin Yoga by the Sea, a weekly yoga class held on the beach in beautiful Destin, Florida. Rhonda Comparin, owner and creator of Destin Yoga by the Sea, has been teaching Vinyasa yoga for 15 years. A YogaMom herself, Rhonda understands the blessings and challenges of balancing her career and her family while still fitting in time to take care of herself. The students of her Beach Yoga Class find that it is the perfect time to let go of expectations and simply be.
View Video
"We have found YogaMom Magazine helps us to carry our practice beyond the class and into our daily lives," says Rhonda. "It offers creative ideas to bring balance to our jobs and our families, and still have time for ourselves."
The beach is an ideal setting for practicing yoga, as the gentle rhythm of waves lapping onto the shore encourages an ease in centering oneself. The blissful, cooling sea breeze offers a renewal of the senses. The class is designed to sculpt the body, improve flexibility, increase coordination and muscle tone, all while releasing the stresses of the day and leaving you better equipped to take on the unexpected.
Beach Classes are on going year-round. For more information, visit www.DestinYoga.com or call (850) 897-3788. To view excerpts of the class visit http://www.youtube.com/user/YogaMomMagazine